---

Slide Rule Info


Image
Galleries:

---

About the OS

Calculating With Tones
The Logarithmic Logic of Music
by
Klaus Kühn and Rodger Shepherd
Bob Koppany, JOS Team Editorial Team Leader writes:
This book made its debut at the IM2009 meeting in Germany in September, 2009. The title is "Calculating with Tones: The Logarithmic Logic of Music", published by the Oughtred Society. It begins with a history of tones from Pythagoras, and quickly gets to the logarithmic association of music by William Oughtred from 1702. Slide rules for music are then discussed, culminating with the custom music slide rules made by noted composer Arnold Schoenberg. The book is in English. It is 60 pages including 19 full-color illustrations, 24 black/white illustrations, and 15 tables. The price is $21.00 plus $4.00 shipping in the United States and Canada, or $8.00 shipping for Europe. It can be ordered directly from the Oughtred Society.
Ordering.
Books size is 8-1/2 x 11 inches soft cover, 60 pages. Price is $21.00 plus shipping. To place your order, follow these easy steps:
1. Payment Via PayPal.
Mailing cost is for up to 2 copies. If additional quantities are desired, please e-mail us at secretary@oughtred.org and we will forward a custom payment request to you.

You may pay for your book with your credit card via PayPal, just click on the appropriate button in the table below.
USA Shipments

Price is US $21.00 plus $4.00 shipping.

International Shipments

Price is US $21.00 plus $8.00 shipping.
2. Payment Via Check or Money Order.
Notes:
We do not recommend surface mail for international shipments. Your book might be damaged.
These are actual postage costs for shipment by the U. S. Postal Service.
The Oughtred Society charges no handling cost.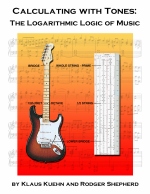 Book cover with
three sample pages